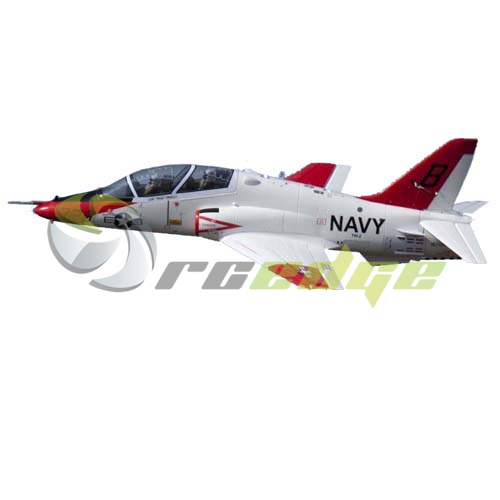 Freewing T-45 Super Scale 90mm 6S EDF PNP FJ30711P
Current Stock Level: 0
Description
Freewing T-45 Goshawk Super Scale with 12 Blade 90mm EDF Jet - ARF PLUS - FJ30711A+
The T-45 Goshawk is a fully carrier-capable version of the British Aerospace Hawk Mk.60. It was developed as a jet flight trainer for the United States Navy and United States Marine Corps. The Goshawk's origins began in the mid-1970s, when the US Navy began looking for replacement for its T-2 and TA-4 trainers. British Aerospace and McDonnell Douglas proposed a version of the Hawk and were awarded the T-45 contract in 1981. The Goshawk first flew in 1988 and became operational in 1991.
Many RC models of the T-45 have been produced over the years, due to the aircraft's great looks and superb handling. After 150+ test flights, we believe this is the best foam RC PNP scale T-45 Goshawk in the world today. The Freewing T-45 sets itself apart from the competition with numerous scale details and innovative features such as servo actuated speed brakes and plastic wormgear-driven slats. These slats are the first production release of a proper slat in a foam model of any size, and use aluminum tracks to ensure proper extension geometry. Other plastic details include a row of turbulators on the wings, exhaust nozzle, pitot tubes, antennas, arrestor hook, and cockpit parts. The sequenced landing gear utilize a four part nose door like the real T-45, and a three part main door assembly. The struts replicate the stance of the T-45, complete with long travel trailing link mains and a nose strut with tow bar and landing light. All control surfaces, lights, and doors are managed by a single junction board complete with quick disconnect wing harnesses, providing a very tidy cockpit. Say goodbye to unsightly jumbles of wires in your battery bay!

Intended as a "Scale Plus" flyer, the Freewing T-45 Goshawk excels in scale maneuvers and stability throughout its flight envelope. The Freewing T-45's climb rate, roll rate, top speed, and overall agility are virtually identical to the Freewing Stinger 90 jet. With speed brakes, flaps, and slats deployed, the T-45 can land at a slow jogging pace and is the most stable of all Freewing's large jets in the landing pattern. The T-45 cruises at 50% throttle and we measured an average top speed of 90mph in level flight after a slight dive. With its scale landing gear, lights, and other details, the Freewing 90mm T-45 Goshawk will be the gem of any RC pilot's jet fleet and offers pilots an easier flight experience compared to similar jets in this size..
This ARF PLUS (ARF+) version is intended for pilots who want to install their own power system. Just drop in your own ESC, motor and fan and you'll be airborne in minutes. This model is designed for versatility, and can also CG with 8s or 10s power systems, providing pilots with a widely upgradable platform in a high scale fidelity package.
FEATURES:
Large scale electric ducted fan RC jet sporting an accurate livery
Electric retracts with scale, shock-absorbing struts and main operation, CNC'd from 6061 aluminum and suitable for pavement or short grass
Electric wormgear-driven Slats
Servo operated Speed Brakes
Sequenced gear doors provide added realism and reduced drag
Integrated Junction Board to consolidate all wiring
Removeable wings and flight surfaces, including a magnetic nose cone, for easy transport and compact storage
Machine screws and brass threaded inserts are used to attach the wings for a secure fit and longevity
Bright LED navigation lights for enhanced realism and dawn/dusk maneuvers
Carbon fiber wing spars and reinforced body parts
Upgraded pushrod clevis and metal ball head connectors on elevators provide a robust connection between servo and control surface and eliminate "slop"
Nylon hinges on all control surfaces (superior to foam hinges)
All servos and landing gear components are pre-installed for your convenience. Just provide your own ESC, motor and 90mm fan and you are ready to fly!
REQUIRES:
7 Channel Radio
7 Channel Receiver
6 Cell 22.2V 5000 to 6000 mAh LiPo battery with EC5 connector
6 Cell Compatible Battery Charger
SPECIFICATIONS:
Wingspan

1238mm / 48.7in

Length

1435mm / 56.5in

Flying Weight

3600g / 127oz

CG (Center of Gravity)
See Instruction Manual

Power System

3748-1550kV Brushless Outrunner Motor with 3150g thrust (PNP only)

Electronic Speed Control

130A ESC, 8A UBEC, EC5 Connector (PNP only)

Propeller / EDF

90mm Metal Housing EDF with 12 Blade Fan (PNP only)

Servos

9g hybrid gear standard with 550mm lead: Left airbrake, nose gear door, rear cabin door, nose steering
9g hybrid gear reverse with 550mm lead: Right airbrake
9g hybrid gear standard with 100mm lead: Rear cabin right
9g hybrid gear reverse with 100mm lead: Rear cabin left
17g metal gear standard with 550mm lead: Left aileron, right aileron
17g metal gear standard with 300mm lead: Left flap
17g metal gear reverse with 300mm lead: Right flap
17g metal gear standard with 100mm lead: Left elevator, rudder
17g metal gear reverse with 100mm lead: Right elevator

Landing Gear
CNC electric retracts with scale, shock-absorbing struts and main operation
Main Wheels = 60mm tall, Nose Wheel = 45mm tall

Required Battery

6S 22.2V 5000-6000mAh 50C LiPo (not included)

Required Radio

Minimum 7 Channel (required)

Ailerons
Yes

Elevator

Yes

Rudder
Yes

Flaps

Yes

Lights

Yes

Hinge Type

Nylon hinges

Material
EPO Foam
Skill Level
Advanced
Build Time
2 Hours
Recommended Environment
Outdoor