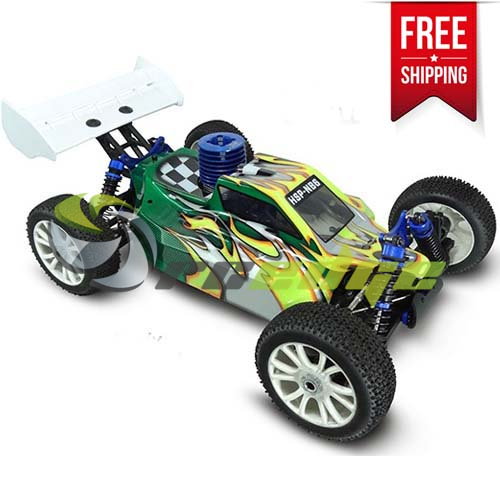 HSP Camper 1/8th Nitro 4WD
Current Stock Level: 0
Description
HSP #94970 Camper 1/8th Scale 4 Wheel Drive Off Road Buggy with X.26FC Nitro Engine
If you want Bigger and more Powerful then this is the beast you are after. Just arrived from the Factory is the new 1/8 Scale Nitro RC Buggy. Complete with factory Installed SH.18 Nitro Engine this Buggy has amazing speed. Straight out of the box this buggy goes hard leaving lesser powered buggies in its dust.
This fantastic 1/8th scale nitro buggy comes complete with 2.4GHz Radio, Fail-safe, Coil Over Alloy Cap Oil Filled Shocks, adjustable preload, Full Ball Bearings and Specifically Designed All Terrain Tyres, Countersunk Alloy Chassis, Alloy Shock Towers, 3 Differentials, Splash Guards plus a long list of features below...
100% Factory assembled, just add fuel and batteries any you can literally go out and start winning races tomorrow.
Features:
4 Wheel Drive System
High Quality Main Diff gears and pinions
Engine HS PT21-P3
Polished Aluminium Exhaust pipe
Sealed Battery and Receiver Box
Fully ball Raced
More powerfull Slide Carburettor
Powerful Disk Brake System with replaceable pads
Leak Proof Fuel Tank with Overflow pipe and spring loaded fill cover
Four high quality adjustable Oil filled absorbers
High flow heavy duty element air filter
High Performance Off Road Knobbly Tyres
Sway bars front & rear
Tough Anodized Aluminium Shock Towers and Front Steering top Plate
Strong round blue alloy chassis struts.
2.4GHz Radio with Fail-safe included as standard.
Specifications:
| | |
| --- | --- |
| Brand Name: | HSP |
| Model Number: | 94970 |
| Scale: | 1/8th |
| State of Assembly | Pre-Assembled RTR |
| Length: | 490mm |
| Width: | 305mm |
| Height: | 190mm |
| Wheelbase: | 325mm |
| Gear Ration: | 1:9.71 |
| Ground Clearance: | 30mm |
| Motor: | X.26 FC Engine |
| ESC: | N/A |
| Battery: | N/A |
| Radio System: | 2.4 Ghz |
| Drive System: | 4 Wheel Drive |
| Chassis Type: | Aluminium |
| Wheels: | 42mm |
| Steering Servo: |   |
What's in the box:
1 x 4 Wheel Drive Nitro Truck
1 x 2.4 Ghz Remote
1 x User Manual
Required:
8 x AA Batteries
1 x Nitro Car Fuel 25%
1 x Nitro Fuel Fill Bottle #80135
1 x HSP Glow Plug Igniter #80231
1 x Flat Head Screw Drive
1 x Cross Wrench (Glow Plug Removal) #80129
1 x R5 Glow Plug (Good to always have a spare)
or purchase the HSP Nitro Starter Kit #80142